Foreign buyers of property in London see profits of up to 39% in 12 months
Tuesday, July 22nd, 2014
Research by Knight Frank finds a strengthening pound and weak foreign currencies made prime London property a win-win bet
Wealthy Russians who bought properties in London's richest neighbourhoods last spring have seen the value of their holdings increase by more than a third, as a result of contrasting fortunes between the two countries, according to figures published on 22 July.
However, they are not the biggest winners among overseas investors: those who converted money from Turkish lira, Indonesian rupiah and South African rand to buy apartments and houses in neighbourhoods such as Mayfair and Knightsbridge have seen even bigger increases.
London property has been seen as an attractive investment for overseas buyers looking for a safe haven for their cash, and many have snapped up swathes of the capital's high-profile new developments. The figures, from researchers at Knight Frank, show they have made a good return on their investment.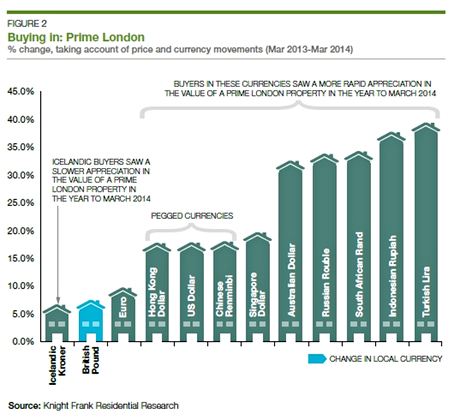 Between the first quarter of 2013 and the same period in 2014 values in prime London rose by 7.5%, but over the same period the pound strengthened against many foreign countries. As a result, investors from Turkey have seen a 39% uplift in the value of their investments, while Indonesian buyers have seen value climb by 37.8% and Russian investors would now get a return of 33.8%.
Buyers bringing money from Australia have also fared well, with a 32.5% increase in their asset over the year, while Chinese investors have seen the value of their holding grow by 18%.
For buyers of almost all countries the cost of purchasing a prime property in London has increased more rapidly than for British buyers, Knight Frank said, with only Icelandic investors seeing a lower rate of price inflation, at 6.6%.
Kate Everett-Allen, partner, international residential research at Knight Frank, said: "The currency advantage for Asian buyers looking to purchase in prime central London now has diminished compared to 2009 when the weakness of the pound gave them a significant advantage."
She added: "For a Turk looking to buy in prime central London, unless they are confident the lira will fall further or that prices will rise strongly, their buying opportunity may have passed."
By Hilary Osborne